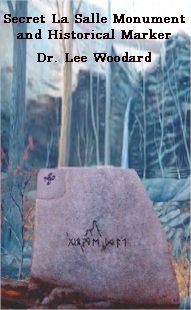 click on book cover to see articles
Secret La Salle Monument
& Historical Marker
Mysterious Heavener, Oklahoma Runestone is a 1687 Normandy French Monument. It tells the nearby Death Locations of Famous French Explorer Robert Cavelier de La Salle and six others. This book tells the initial discovery.
Woodard discovered that this large Runestone oddity is not of Scandinavian Origin, as incorrectly advertised for so long at an Oklahoma State Park. It is instead a 1687 Normandy French Memorial Monument.
It uses Normandy French Runes (La Salle was from Rouen Normandie) for concealing French messages from Spanish Soldiers. La Salle's tragedy-plagued Matagorda Bay Area French colonization attempt was into territories claimed by Spain since the early 1500's. La Salle and his men were encroaching upon Spanish American Terrain (even when penetrating to the Poteau and Arkansas River Valleys).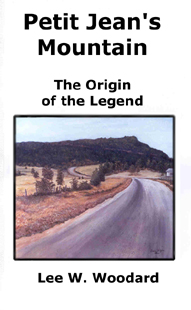 click on book cover to see articles
Petit Jean's Mountain
The Origin of the Legend
Fascinating true life story of the 1687 Historic La Salle Expedition Drowning Tragedy which claimed life of a young French Noble. That death resulted in the Old Arkansas oral Legends about Petit Jean's Mountain and River. This is an important sequel to the book "Secret La Salle Monument And Historical Marker."
Oklahoma La Salle discoveries convinced Dr. Lee Woodard that on St. Jeans Day, June 24, 1687, the seven fleeing French survivors of the La Salle expedition were at what is now known as Petit Jean Mountain of Arkansas.
On that date, says Woodard, young French Noble, de Marne, drowned in the nearby Arkansas river, and was buried near the top of Petit Jean Mountain.
.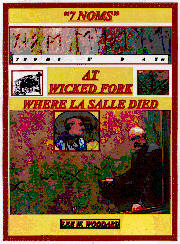 Click on book cover to see article
7 Noms
At Wicked Fork
Where La Salle Died
To supplement this coverage of fascinating Early French Colonial American History consult Dr. Woodard's newest book, "7 Noms" At Wicked Fork Where La Salle Died
The newer book, "7 Noms" At Wicked Fork Where La Salle Died should be consulted for updated clarifications and recent Newspaper and Television Coverage.